Ultimate Virtual Summit Training: Production Mastery
Don't waste another year wondering how to triple your income as a Virtual Assistant
Finally…there is a LEGITIMATE IN-DEPTH training course on producing Virtual Summits!
Hi, I'm Jeanette Ortega and I tripled my income and got more clients than I could handle when I started offering online event production services…and you can too!
Have you ever wished you could get your foot in the door with fellow entrepreneurs to offer your services?



Not sure what services you should offer in your virtual assistant business?
Do you want to be known as a leading authority in your field?
Do you want new clients referred to you constantly?



I was the same way 8 years ago. I didn't know what services I should provide in order to get top dollar. I didn't know how to be seen as an expert in my area of expertise. I didn't know how to work less and earn more.

Imagine being able to work 13 weeks then take a break from work for a few weeks. You could spend more time with friends, family, pets, doing crafts, gardening, volunteering.

Imagine having clients referred to you and you get to pick and choose who you want to work with.

Imagine what a relief it would be to learn from someone who holds your hand and saves you from making the same mistakes she did.

Imagine having all systems, templates, scripts at your finger tips.

There was a time where I struggled to get clients. And when I did get clients, it was hard to get high-paying clients who saw my worth. I was tired of not knowing whether I would have clients from one day to the next. 
I wanted to:
Stop playing small

Get high-paying clients

Be known as a leading authority in my field

Earn consistent monthly income
Building a business is not easy! You can have all the knowledge and skills in the world but if nobody knows about you, then you will quickly go out of business. When I started working with other online professionals, I instantly fell in love with the industry and new exciting technology. I wanted to stop being the best-kept secret! I was a best-kept secret because nobody in the industry knew about me, my knowledge or skills. I thought I had all the skills I needed to successfully work in this industry…that is….until I got introduced to virtual summits and other online events.
These online events turned my life and my business around! I quickly learned all there was about producing these events. I learned everything I know about them the hard way. In a short time after offering Online Event Production Services, the number of clients and income tripled.
Virtually all of my clients started coming to me via referral. Because of this, I was able to save time and money on my marketing costs. Referral is still the best way to get clients for almost all businesses. In addition to this, I was able to sign up some of these clients as ongoing retainer clients.
I am here today to tell you that you need to start hosting virtual summits and/or producing online events as a way to increase your revenue in 2020.
Course Price $797
Who is Jeanette?
You may be wondering who the heck I am and why you should listen to me. I am a professional online business owner who has been in the profession for 8 years. I started off taking any client that would hire me and doing everything from answering phones, scheduling appointments to creating databases and only charging $15/hr.
Then one day, I got the opportunity to intern for an OBM. She introduced me to the wonderful coaching and professional speaker industry. Before I knew it, I was developing my multi-faceted firm and only providing techie tasks and project management services to clients and charging 3 times more than before. Our project management services included Virtual Summit and Giveaway production services. By offering these services I was able to triple my income! Yup, you heard that right! TRIPLE!
My team and I have produced many Virtual Summits and Giveaways including Linda Claire Puig's "On The Road and Making Money Telesummit", Linda Claire Puig and Kim Clausen's "Done For You Giveaway", Monica Shah's "Rock Your Revenue Giveaway and Shanda Sumpter's "Freedom, Heart Profit, Giveaway Extravaganza" among others.
The truth is… there are many moving pieces when organizing a virtual summit, so if you have not been professionally trained, it can be overwhelming. 
I'm here to tell you that with my training, producing a virtual summit will not be overwhelming or stressful. In fact, they can be very fun and rewarding.
I have the perfect solution for you!

Introducing…ULTIMATE VIRTUAL SUMMIT TRAINING: PRODUCTION MASTERY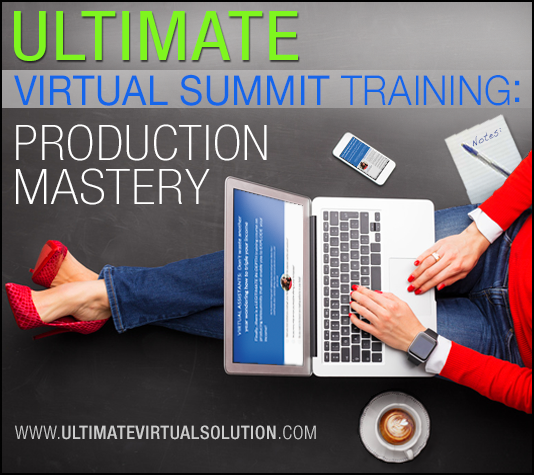 What's in it for you?
By the end of this training course, you will be able to confidently produce Virtual Summits, even if you are NOT technical!
You will learn how to organize the moving parts of a Virtual Summit while receiving:
Personal instruction from someone who has done it the hard way and won't let you make the same mistakes




Templates, examples, and checklists so you know exactly what to do and when

Feedback and support you need to successfully implement a Virtual Summit
Course Price  $797
Course Testimonals
Click each image to watch a video testimonial from our students
What's Included  
Me, Jeanette Ortega, as your trainer, guide and coach

6 Pre-recorded, powerful, in-depth training modules




Access to templates, examples, swipe copy, and checklists




4 Bonuses 
Module 1: Virtual Summit basics

Overall process

The importance of a Virtual Summit

Virtual Summit Terminology

Virtual Summits vs. Giveaways

 
Module 2:  The Hosts' Responsibilities vs. The VA's Responsibilities
Be clear on your responsibilities to the client and the speakers

Be clear on the client's responsibility to you, the team, and the speakers

Mistakes to avoid
Module 3:  Organizing All the Pieces - Part 1
Review of a Virtual Summit Optin Page

What you need to collect from the speakers

How to organize what you collect from the speakers
Module 3:  Organizing All the Pieces - Part 2
Event timeline & due dates

Checklist of tasks

Organizational structure

Who is responsible for each task
Module 4:  Managing the Team
Keep everyone on track

Project management system

Delegate tasks outside of your skillset
Module 5:  Working the Summit Inbox
Daily management

Process for making sure all emails are attended to

Communication with speakers, sponsors, client
Module 6:  Getting Virtual Summit Clients
How and what to charge for your services

Where to find prospective clients

Promoting your new service

How to hold a consultation with a prospective client
Make 2020 your best year in business yet!
1) Private Online Community: Priceless
2) Ultimate Virtual Summit Task Tracker: $250 Value
3) One 30-minute private coaching call
4) Discount on upcoming Virtual Summit Technology Training course (BETA): $100 Value
Ultimate Virtual Training
"Telesummits and giveaways have a LOT of moving parts, and you need a team that is specifically experienced, responsive (SO important!), consistent and accurate. Jeanette and her team have that in spades!! It has been my pleasure working with her on my own online events, and she was my go-to team when I produced events for my clients. On top of all the knowledge and professionalism Jeanette brings to the table, she's also a delight to work with!"
Linda Claire Puig
~Co-host, Done4You Giveaway of the Century
Ultimate Virtual Training
"​Jeanette and her team at Ultimate Virtual Assistants have been supporting us for several years in one of the biggest events we host. The folks at UVA are such leaders, so organized, so proficient, and so on top of things, that they manage the vast majority of the details of the project, so we can relax, not worry, know that things are getting done in a timely manner, and allow us to focus on serving our clients and growing our business.  

Their team is competent, responsive, courteous, and cares about doing a top quality job.  I would highly recommend Jeanette and her team at UVA for all your Virtual Assistant needs."
Kim Clausen
Co-host, Done4You Giveaway of the Century
Frequently Asked Questions
These are some of the questions people most frequently ask us:
Will you be offering this course again?
Yes, although I do not have a firm date as to when it will be available again. I do know that the price will be higher.

How soon can I start offering this new service to clients?
You will be able to start providing this service to your clients within a month or two. It all depends on your current skillset and your determination. 

Is a Virtual Summit the same as a Telesummit?
Yes, it is the same thing.
Do I have to be a techie in order to offer this service.
No. You can offer this service by doing the admin and project management side of things. 
7 Day Money Back Guarantee
This course is backed by my 100% guarantee. If you feel it does not help you in any way to build a better, more satisfying business, simply email us at support@ultimatevirtualsolution.com within 7 days of your purchase for a fast, courteous refund.